Kopi Tuku was established in 2015 in the Cipete area, South Jakarta as its first store and then developed to have 3 stores in the Bintaro Branch area and Santa Market. Tuku coffee is increasingly famous after being visited by President Joko Widodo and starting to be increasingly exposed on social media.
The success was not obtained in an instant. Tyo claimed there was a long journey that had to be taken, not to mention the competition was getting tougher with the proliferation of coffee shops that were similar to his. But he is optimistic that the coffee market will continue to grow.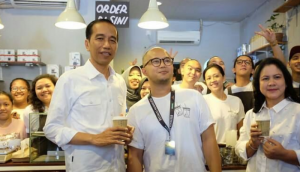 A number of efforts have been made to raise this coffee shop business. First, he researched and analyzed the culture of coffee consumption in Indonesia. In fact, he saw that coffee consumption in the community was still low because most of them only enjoyed instant coffee. This makes Tyo sure that the business he pioneered is not just selling coffee but wanting to introduce the wealth of Indonesian coffee.
Then the key to the success of Tuku Andanu Prasetyo Coffee, which according to him is the identity that was built from the beginning of the goal of establishing Tuku Coffee to give experience to customers. Customers are the king of how to make customers comfortable and want to go back to the store and enjoy coffee is the main thing that wants to be built from the beginning.
"Starting from breaking in and playing classical music, lined coffee jars, the smell of coffee, our friendly greeting until the price we control is affordable, all aspects I try to control," he said Andanu Prasetyo was quoted from swa.co .id.